In My World –

two novels in one book for children aged 7+
Basketball Tree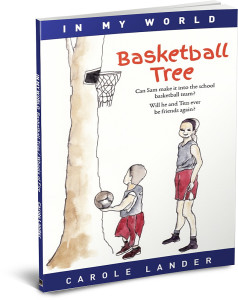 Sam wants to be good at basketball. With his dwarfism he's very short while his friend Tess is very tall. Can they both get on the school team? And will Sam ever find out what's wrong with the class bully who's behaving very strangely?
Listen to Chapter One here. (Scroll down to numbers 9 & 10.)
Wheels of Fire

When Bec's new teacher suggests a way for her join in the school concert in her wheelchair, she's not so sure. She's more interested in catching a thief with her friend Damien. But Rima has plans for Bec's costume and the concert night turns out to be a BIG one!
Listen to Chapter One here. (Scroll down to numbers 9 & 10.)
Author Carole Lander / Illustrator Michele Moore
Order your copy of

IN MY WORLD

now
Australian buyers ($15 + postage)
New Zealand buyers ($15 + postage)
Buyers in UK, US, other countries ($15 + postage)
Available in Melbourne, Australia at Readings (Carlton Store), Dymocks Camberwell & Fairfield Books 
Available in Sydney, Australia at Gleebooks Stores (Glebe, Dulwich Hill, Blackheath)
Available in Queensland, Australia at The Book Garden, Toowong 
THANK YOU! YOU MAY ALSO LIKE TO READ MY NONFICTION BOOK
Little People Big Lives
This book by Carole Lander gives voice to a range of people living with dwarfism. One of them is Warwick Davis, renowned British actor (Star Wars, Life's Too Short) who co-founded Little People UK.
Several others profiled in the book are members of Short Statured People of Australia. They all agree that this book conveys a positive message about people living with a physical difference.
Professor Ravi Savarirayan, Head of Clinical Genetics Service at the Murdoch Children's Research Institute in Melbourne, Australia says:
"In an age where body image seems to be so important, this book will go a long way to proving that people living with a different physique can lead normal lives and achieve their goals."
The profiles include men and women of all ages and backgrounds. They have a variety of careers and the Fast Facts sections provide interesting information that includes –
Famous people in history who have been dwarfs
Sporting achievements in the Paralympics and World Dwarf Games
Artistic achievements now and in the past – actors, comedians, artists …
Medical conditions related to dwarfism
The book is for a  general readership. The What's next … ? section provides an interesting way to explore topics raised in the profiles. It is highly recommended for secondary-age students as well as adults.
View a sample of the book as a PDF by clicking here
Download a sample of the book as an EPUB (for your e-reader) by clicking here
You can buy Little People: Big Lives for $25 (Australian dollars) plus $5 postage and handling. For purchases of more than one book, please email info@checkword.com.au to discuss.
It is also on sale in selected bookshops in Sydney: Gleebooks and the bookshop at the Westmead Children's Hospital
Order your copy now
Alternatively, email me to discuss alternative methods of purchasing: info@checkword.com.au

 Checkword Publications